Small and daring, built in a Brâncovenesc style, the Kretzulescu Church is one of the most eye-catching temples in Bucharest. It is a true survivor and was one of the main witnesses to the end of the Communist period in Romania.
As soon as you step towards this welcoming temple, you'll be taken away by its patio decorated with numerous fresco paintings. Inside, you'll see a strikingly-decorated church in which the golden main altar and the incredible paintings really stand out.
If Walls Could Talk
The church was built between 1720 and 1722 and throughout its history it has seen numerous ups and downs. Although, far from being destroyed, it has come out the other end stronger than ever!
Discrete and keeping its distance, Kretzulescu Church stood next to Revolution Square and was witness to every single communist speech, including the speech which marked the end of the era of repression headed by Ceausescu.
After the earthquake in 1940, the church was seriously damaged and the idea of demolishing it was considered, but luckily, in the end, it was renovated and still maintains its charm and fairytale-like beauty.
Recommendable
Kretzulescu Church is one of the city's most beautiful churches that is steeped with history, therefore, it is worth a visit. If you are lucky enough to visit during mass, it is a very special experience as the hymns that are sung travel in such a way that they transmit inner peace to everyone present.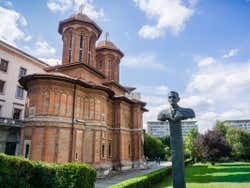 Transport
Metro: Universitate, Line M2.