National History Museum of Romania
Located in the old post office building, the National History Museum of Romania stands tall on Victory Avenue, proudly showing visitors the country's history by means of its different exhibitions.
Opened in 1972, the museum is housed in an impressive building with huge domes and Greek-style columns on its façade. 
The Museum at a Glance
The largest and most eye-catching part of the museum is the exhibition dedicated to Trajan's Column in Rome, where you can see a life-size replica of the column and an explanation of each of the scenes carved into its surface.
The most enlightening part of the museum is found in the dark basement, which is dedicated to National Romanian Treasure. Here you can see numerous items of gold, including incredible crowns that are sure to make an impression.
Interesting but not Unmissable
The National History Museum of Romania has very interesting exhibitions that are very well documented, but, much like many other the other museums in Bucharest, you'd have to be in the city a few days to be able to visit, as we think there are more important tourist attractions that you should visit first.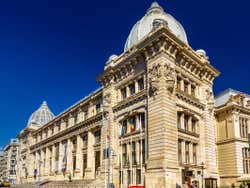 Schedule
Wednesday to Sunday: 10 am to 6 pm.
Monday and Tuesday: closed.
Price
Adults: 20 RON (US$ 4.30)
Students: 5 RON (US$ 1.10)
Seniors: 10 RON (US$ 2.20)