A symbol of dictator Ceaucescu's megalomania and desire for grandeur, Bucharest's Parliament is the second-largest office building in the world, beaten only by The Pentagon.
Delusion Turned into Reality
The seed was planted of having the most imposing palace in the world after Ceausescu was inspired when visiting his North Korean counterpart. The leader made the most of the confusion and destruction caused by an earthquake in 1977 to rebuild the city to his own taste.
To give his ambitions free rein, Ceaucescu did not think twice about demolishing different historical areas of the city that were in his way, including numerous temples, hospitals and factories, as well as the houses of more than 40,000 people who were stripped of their properties and forced to move.
This massive construction was built against the clock at the hands of more than 100,000 workers who were working 24 hours shifts 7 days a week. Many people lost their lives working on this building, and it is thought that many are buried under the concrete.
In order to fund the project, which cost the equivalent of 5 years' worth of the country's budget, Ceausescu took on considerable foreign debt, which he easily paid back, plunging the Romanians into misery.
Exploring Parliament
This huge building has a surface area of 3,928,827 square feet (365,000 square metres), with a total of 1,100 rooms that are covered by more than 2,152,782 square feet (200,000 square metres) of rugs and 9,687,519 square feet (900,000 square metres) of wood that shines brightly under an impressive number of splendid chandeliers.
To get more of an idea of the sheer size of the building, it's 787 feet long (240 metres) and 886 feet wide (270 metres), with 12 floors plus an additional 8 underground floors, unsurprisingly including a bunker. It's also considered to be the heaviest building in the world!
Must-See
The Palace of the Parliament is a physical reminder of one of the most important periods in the history of Bucharest, and due to that, and it's incredible size, there is no doubt that it's one of the essential tourist attractions in the city.
To visit the parliament, you must reserve at least 24 hours in advance, especially if you want a guided tour. You can book by calling: + 40 733 558 102 or +40 733 558 103.
If you don't want to enter the parliament, a good way of ensuring that you still see it from the outside and learn about its history is on a free walking tour.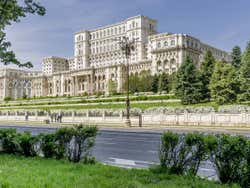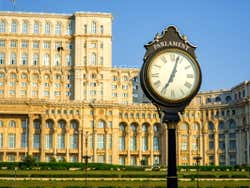 Schedule
From March to October: every day from 9 am to 5 pm.
From November to February: every day from 10 am to 4 pm.
Price
Adults: 40 RON (US$ 8.60)
Students: 20 RON (US$ 4.30)
Children aged between 7 and 18 years: 10 RON (US$ 2.20)