With its incredible history, surroundings and architecture, it is no wonder that Peles Castle is the second most visited castle in Romania, topped only by Bran Castle.
When Prince Carol of Romania visited Sinaia, he was overwhelmed by its beauty and decided to acquire some land and commissioned a castle to be built there to be used as a summer residence for the Romanian royal family.
Peles castle was built between 1875 and 1915 and was used by the monarchs until 1948 when, after being conquered by the communists, it was turned into a museum that was not opened to the public again until 1990.
Peles Castle at a Glance
With a surface area of 34,444 square feet (3200 square metres), the castle has 160 rooms decorated with beautiful furniture and they are accompanied by more than 30 bathrooms.
The castle stands out for some elements that are truly surprising for its time period, such as its own hydro plant, heating, a moving glass roof and even a lift.
As you visit the castle, you'll be able to discover the music room, a small theatre, different outdoor areas with fountains and statues, impressive halls and an incredible library that- as if straight from a movie scene- has a door hidden behind a bookcase.
Must-See
No trip to Romania would be complete without a visit to Peles Castle. Full of history, art and surrounded by nature, it surprises visitors with its fairytale-like beauty.
How to Arrive
Organised Tour
The easiest way to get to Peles Castle is on an organised trip, this way you can enjoy the scenery on the journey and make the most of your time at the castle with an expert tour guide.
Many tours combine a trip to Peles Castle with a visit to Bran Castle. You can book this tour here. Or, you could even combine your visit to Peles Castle with a trip to Sinaia. Alternatively, if you are a large group, or would like a more personalised experience, you could also take a private tour to the two castles.
Private Vehicle
Another option is to rent a car and head to the castle at your own leisure. Peles Castle is 88 miles (142 km) from Bucharest and just 28 miles (45 km) from Brasov.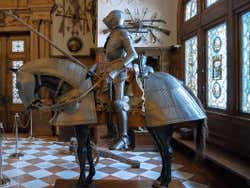 Schedule
From 15th May to 16th September:
Tuesday to Sunday: from 9:15 am to 4:15 pm (opens at 11 am on Wednesday).
Monday: closed.
From 17th September to 13th May:
Wednesday to Sunday: 9:15 am to 4:15 pm (opens at 11 am on Wednesday).
Monday and Tuesday: closed.
Price
Adults: 30 lei.
Students: 7.5 lei.
Pensioners: 15 lei.
Children and reduced mobility: Free
Transport
Organised tour.
Private vehicle.