National Museum of Art of Romania
Located inside the outstanding Royal Palace, the National Museum of Art of Romania (Muzeul Național de Artă al României) houses a collection of medieval and modern Romanian art, as well as an excellent collection of  European pieces.
Due to its central location next to Revolution Square, the museum was seriously damaged during the 1989 revolution, causing it to be closed for renovation work for a decade.
Exploring the Museum
The museum is split into two large galleries: the European Art Gallery and the Romanian National Art Gallery.
Romanian National Art Gallery
The areas dedicated to the Medieval Romanian Art include brilliant treasures including numerous pieces that were rescued from the monasteries that were ordered to be destroyed during the Ceausescu era.
The second floor is home to the Modern Romanian Art Gallery, which houses sculptures and paintings by the country's most important artists, including Constantin Brâncuși, Milita Petrașcu, Dimitrie Paciurea, Theodor Aman, Nicolae Grigorescu, Theodor Pallady, Gheorghe Petrașcu and Gheorghe Tattarescu.
European Art Gallery
This part of the museum includes excellent pieces by the great maestros from each European style of art, including work by El Greco, Tintoretto, Rubens, Jan van Eyck, Jan Brueghel the Elder, Rembrandt and Monet.
A Fantastic Museum
The National Museum of Art of Romania is a wonderful museum and art lovers will delight as they admire the brilliant national and local pieces in each of its galleries.
Having said that, the museum is quite large. If you want to make the most of your visit and have the time to fully enjoy the museum, we only recommend visiting if you have two or three hours to spare.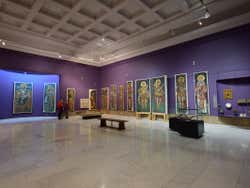 Schedule
Wednesday to Sunday: from 10 am to 6 pm.
Price
National Gallery: 24 RON (US$ 5.30)
European Art Gallery: 24 RON (US$ 5.30)
Combo ticket: 32 RON (US$ 7)