Sutu Palace is one of the oldest aristocratic residencies in Bucharest. It is an imposing, yet beautiful building built in 1835 that, despite being over 150 years old, remains almost entirely intact as if time had stood still.
Exploring Sutu Palace
Behind the imposing façade lies a mansion that upholds the memory of the past, when it was a backdrop to the pompous parties held by the aristocracy.
In the palace's central hall there is the most eye-catching piece of the museum: a beautiful clock that appears to be the wrong way around. However, it does in fact work perfectly when you look at its reflection in the impressive mirror located next to the staircase.
There is a section of the palace that houses permanent exhibitions, these included archaeological pieces, artwork, documents and many photographs which all help to narrate the city's history. 
If You've Got Time to Spare
The most interesting part of the museum is its main hall, along with its impressive staircase. However, much of the palace has been reformed and no longer maintains the historical aspects of its past. Whilst the exhibitions that it houses are interesting, we only recommend a visit if you've got time to spare on your trip to Bucharest.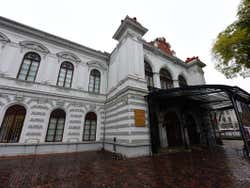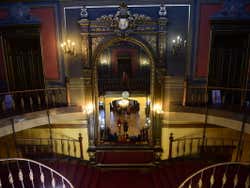 Schedule
Tuesday to Sunday: 10 am to 6 pm.
Monday: closed.
Price
Adults: 10 RON (US$ 2.20)
Students and seniors: 5 RON (US$ 1.10)
Photography inside the museum: 15 RON (US$ 3.20)