Cotroceni Palace is the Romanian President's official residence. It's a beautiful mansion which reflects the city's history. Located in the heart of the city, it can even be visited by tourists.
A Trip Back in Time
The Palace's history started in 1679, originally it was built as a monastery but then in 1862 it became the prince's summer house. Several years later, in 1888, the monastery was demolished to become the palace which would be the official residence of the monarchs.
Years later, in 1989, after the Romanian Revolution, the palace became the official residence of the country's president.
National Cotroceni Museum
In 1991 the National Cotroceni Museum was opened to house part of the Municipal Museum of Bucharest.
Located in the oldest part of the palace and the church, the museum offers an insight into Romania's political past, enabling you to discover the different types of governments that, in some way or another, shaped the past, present and future of the country.
Recommendable
Cotroceni Palace is an interesting place to visit to learn more about Bucharest, as it is a beautiful building which allows visitors to discover the city's personality.
As it is the official residence of the President of Romania, the palace has certain security measures, and as such if you want to visit you must book beforehand.
You can book your visit to the palace by means of this link.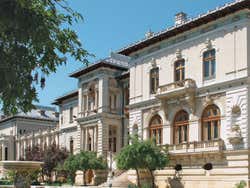 Schedule
Tuesday to Sunday: 9:30 am to 5:30 pm.
Advance bookings only.
Price
Adults: 55 RON (US$ 12.20)
Students: 13 RON (US$ 2.90)
Pensioners: 27 RON (US$ 6)
Transport
Metro: Politehnica, line M3 and Eroilor, lines M1 and M3.