George Enescu National Museum
Created to pay tribute to country's most celebrated composer and orchestra conductor, George Enescu, the George Enescu National Museum is housed within the incredible Cantacuzino Palace, a beautiful historic building located on Victory Avenue.
This museum pays tribute to the brilliant George Enescu, one of Romania's most notable musicians. Enescu started to play the violin at just four years old, and two years later he started to compose his own music. This is when his journey into the world of composing and conducting orchestras began, and it just kept growing and growing.
The permanent collection is housed in three rooms of the palace, in which you can see photographs, instruments and numerous personal objects that enable visitors to delve into the world of the composer.
For a Very Specific Public
The George Enescu National Museum is an interesting place which honours one of the country's most important musicians, however, it is a rather specialised museum. If you're a fan of George Enescu, it offers you an unbeatable chance to find out more about the musician, but if not, we think there are other places in the city that you would enjoy more.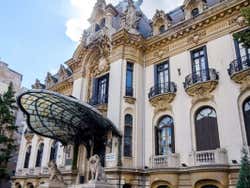 Schedule
Tuesday to Sunday: 10 am to 5 pm.
Price
Adults: 6 RON (US$ 1.30)
Students: 1.50 RON (US$ 0.30)
Pensioners: 3 RON (US$ 0.60)
Transport
Metro: Piaţa Victoriei, lines M1 and M2 and Piața Romană, line M2.