Opened to the public in 2016 to show the ostentatious lives of two of the main political figures in Romania, Ceausescu Mansion is a luxurious space which captivates everyone that visits.
Looking Back
Born in 1918 to a poor, humble family, Nicolae Ceausescu dreamed of being a cobbler and he didn't manage to complete primary school, however, this did not stop him becoming one of the most influential politicians in Romania.
Ceausescu started his career by falsifying documents, which led him to falsify his revolutionary past which, in turn, helped him to rise through the political ranks. Meanwhile, his wife became the second most powerful and the most hated person in Romania.
The couple lived an overtly ostentatious life, which was exaggerated by the fact that many Romanians were deprived of basic resources. This lifestyle was in direct contrast to the politician's socialist discourse.
Exploring the Mansion
Also known as the Primaverii Palace, Nicolae and Elena Ceausescu's mansion hides far more history behind its doors than first meets the eye. It is located on one of the wealthiest streets in the capital, which is where many of the senior communist party members lived.
The guided tour of the mansion explains Ceausescu's political side, but its selling point is that it also offers the possibility to discover the dictator's more humane side.
As you explore the mansion, you'll see the harmoniously decorated rooms, ostentatious bathrooms with the most modern facilities, a beautiful interior tropical garden, an impressive cinema room with the latest technology, and, the mansion's crown jewel; a room with a huge, eye-catching swimming pool decorated with mosaics that took two years to build.
A Dramatic Visit
Visitors are always surprised when they enter the Ceausescu Mansion. Whilst the guide explains the numerous details about the different rooms and the city's political past, visitors are transported to a different world. 
If you have enough time on your trip to Budapest, we think that that this is the perfect way to thoroughly understand the city's past and present. The guided tour is in English, however, it must be booked in advance.
You can book a guided tour by emailing programari@palatulprimaverii.ro or calling +40 213 180 989.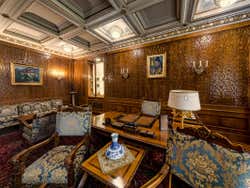 Schedule
Tuesday to Sunday: from 10 am to 5 pm.
Monday: closed.
Price
Adults: 55 RON (US$ 11.90)
Students and pensioners: 45 RON (US$ 9.70)
Private tour: 200 RON (US$ 43.10) per person
Bookings must be made in advance.
Transport
Metro: Aviatorilor, line M2.
Bus: Piata Charles de Gaulle lines 282, 301, 330, 331 and 335.