Founded by the famous Vlad the Impaler, the Old Princely Court (also known as Curtea Veche)  is the oldest medieval monument in Budapest, which gives visitors an insight into the old region of Wallachia.
The court was practically destroyed by the great fire that blazed through the city in 1718, and what remained was struck by the earthquake which hit the city. After these two catastrophes, it was thought that the Old Princely Court was lost forever, but after excavations were undertaken in the area, considerable remains were found.
A Trip Back in Time
You can visit the ruins of the old palace, in fact, they have actually become one of the most important museums in the city. As you explore the Old Princely Court, you'll discover the history of the old region of Wallachia, which enables you to understand Romania as it is today.
During your trip to Curtea Veche, you'll see the ruins of some rooms, including walls, towers and columns, which although they are not in a perfect condition, they give you an idea of the grandeur that this building once had. 
Essential
The archaeological remains of the Old Princely Court make up the oldest medieval monument in the city and they offer visitors a first-hand experience of the city's past. This is one of the highlights in Bucharest and you shouldn't miss out on your trip.
Please note, the Old Princely Court is currently closed for maintenance works. But don't let that put you off, you could see it from outside and learn about the most haunting parts of the city's past on a Ghosts and Vampires Tour.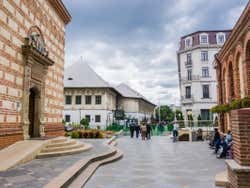 Schedule
Currently closed for restoration work.