Built in 1724, Stavropoleos Church is a small yet special temple which manages to shine and stand out among the concrete buildings which surround it.
Going Back to the Beginnings
The church was built in 1724 along with a small monastery and an inn which paid for all the church's expenses.
At the end of the 19th century, the inn and the monastery were demolished and a series of earthquakes caused the church's dome to fall. As such, it was suggested that the church should be demolished as well, however, luckily this did not happen but rather it was rebuilt and restored.
The Church at a Glance
The church's exterior is covered with colourful walls that captivate people passing by. Once you cross its small wooden door, you'll see a surprisingly beautiful inside.
The walls and ceilings are covered in paintings and elegant decorative elements that make up a beautiful collection of religious art.
Must-See
Stavropoleos Church is one of the main tourist attractions in Bucarest. Its central location in the heart of the city means that you don't have to go out of your way to visit it, rather you can see it any time you walk through the old town.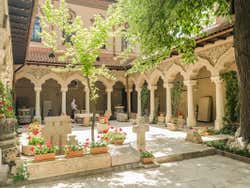 Transport
Metro: Universitate, line M2 and Piata Unirii, lines M1, M2 and M3.
Bus: lines 104, 123, 124, 285 and 381.